£660.00 – £2,876.00 exc. VAT
The Prochem Steempro professional carpet cleaning extraction machine range includes three excellent machines. First there is the popular Powerflo, then the Powermax and finally the top of the range Powerplus.
Product Information:
The advantage of collecting the machine Prochem Steempro is that we can provide some basic training on its use. Additionally, you will be able to see and learn about the wide range of chemicals and accessories available from Prochem.
Our address is: 8 Deer park Rd, London SW19 3GY
Steempro Guide
Powerflo
Powermax
Powerplus
SX2000
SX2100
SX2700
Solution tank
35 litres
55 litres
Recovery tank
26 litres
41 litres
Solution pressure
10.3 bar (150 psi)
11.7 bar (170 psi) induction motor pump
17.2 bar (250 psi)
Vacuum motor
1 x 3 stage by-pass
2 x 3 stage by-pass
2 x 3 stage by-pass "Hi-lift"
Water lift / airflow
3556 mm (140″) / 70.7 l/s (150 cfm)
5588 mm (220″) / 113 l/s (240 cfm)
Hose assembly
4.6 metres (15 ft)
7.6 metres (25 ft)
Carpet wand
30 cm (12″) single jet
30 cm (12″) dual jet S-bend
Tank construction
Polyethylene with Aluminium baseplate
Wheels
Rear stair climbing 25 cm (10″) non-marking
Front castors
10 cm (4″) non-marking
Power cable
7.6 metres (25 ft)
Weight
35 kilos
38 kilos
44 kilos
Shipping weight
42 kilos
45 kilos
53 kilos
Dimensions
89 x 78 x 45 cm (h x l x w)
96 x 80 x 50 cm (h x l x w)
Shipping dimensions
90 x 80 x 49 cm (h x l x w)
101 x 99 x 55 cm (h x l x w)
Warranty
2 years on tank, 1 year on parts
Optional Accessories
Heat 'N' Run, AC3001, can be added to the machine build, simply select from the drop down box.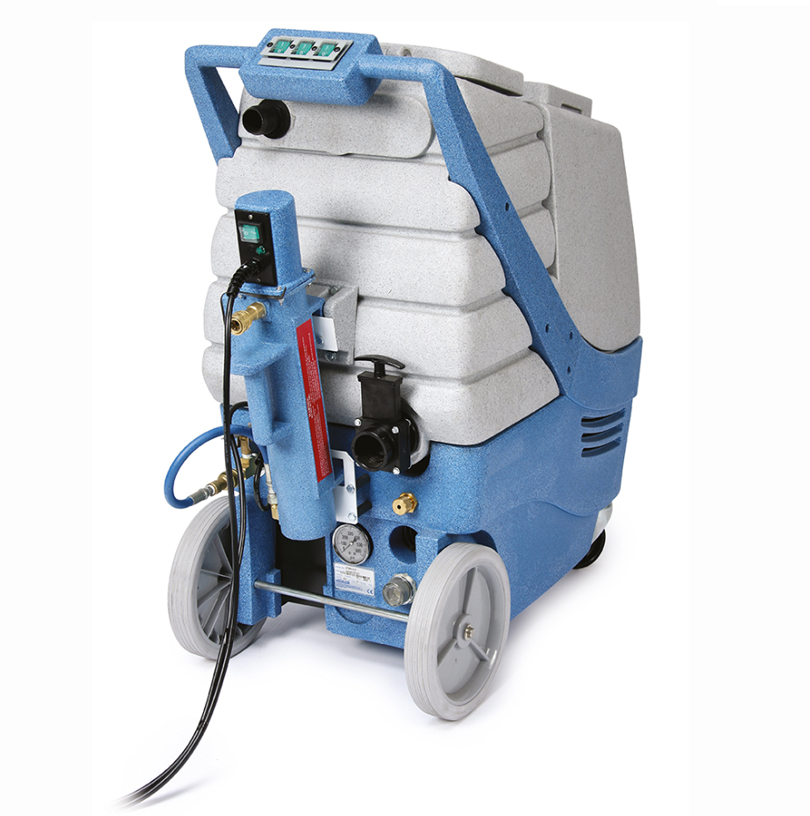 Self-contained 2.8 kw in-line heater designed exclusively for the Steempro and Galaxy range of carpet soil extractors.
High capacity stainless steel heat tube with 65C thermostat and re-settable hi-limit safety thermostat.
Provides constant hot cleaning solution and conforms to CE requirements for isolated electrical unit.
25 ft power cable, illuminated rocker switch and heat indicator lamp.
Fits Steempro heater mounting plates.
Ordering:
This machine can be purchased over the Counter at 8 Deer park Rd, London SW19 3GY where proper instruction on operation can be given. Please call 0203 384 1428 to speak to one of our representatives and they will be happy to give you all the details.
Accessories:
Auto Detailer      Prochem code: AC1039
Plastic Detailer   Prochem code: PM2501
Submit price match data
Price match
Request a price match for a product